Updates about Merit's New Acquisitions and land coming 2021. Check out the new front rendering at the Hern-Mills community and our new website that we just launched!
March 19, 2021
Happy first week of spring everyone!

Hope you all can go out and enjoy the cherry blossoms and sun this weekend, and take advantage of all our great hiking trails, bike paths and great parks we have in our Kirkland area! We've had great weather recently, and hopefully it stays through the first day of spring on Saturday!


Exciting week for our team. We just launched a new website and blog this week! Go check it out at at www.MeritHomesInc.com!
 
Our Hern-Mill projects and IVES lot 1 are coming along. 2 NEW HOMES COMING in APRIL/MAY 2021 at HERN MILL COMMUNITY and these awesome projects are located in Kirkland's exclusive Houghton & popular Rosehill neighborhoods.
 
Contact our Sales Manager Feisal for more information and the process of Merit's VIP presale program and to schedule a tour! Text or call at any time, Feisal Ramjee, (425) 445-1765 or email Feisal@MeritHomesInc.com!
 
Have a great weekend you all!
 
Team Merit & Anne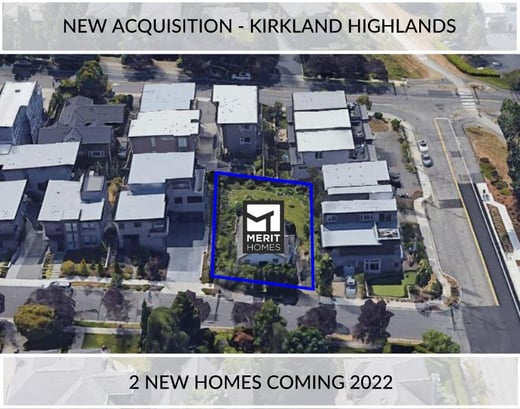 Merit Homes is excited to announce our latest acquisition in the Kirkland Highlands. We are working hard on designing two brand new architectural plans and will be breaking ground towards the end of 2021. Contact Colin Foote, our Land Acquisition Manager, with any inquires regarding land for sale at Colin@MeritHomesInc.com.

Congratulations to our Weller buyers and to a successful closing! This stunning two-story home found its new owners this week! Welcome to our neighborhood! Team Merit wishes you a swift move!

We just got a NEW front rendering for HERN-MILL LOT 1! This stunning home in Houghton, Kirkland is looking amazing already! The high living room ceilings, the outdoor living, BBQ and fireplace in the backyard, absolutely amazing! If you haven't already, contact Feisal for a sneak- peak and private tour!  Project is coming along nicely with an upcoming completion date in May.
 

COMING SOON - IVES LOT 1 12423 NE 104TH ST
KIRKLAND, WA 98033
4 Beds
3.75 Baths
3,332 Sq. Ft.
Completion Date: MAY 2021
Located in Kirkland's North Rose Hill neighborhood. Close to freeways, shops and walking distance to great schools!